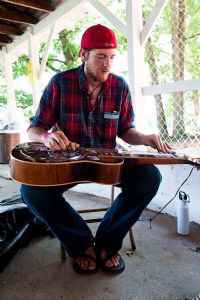 Teaches Lessons: Online, In Person
Levels: Beginner, Intermediate, Advanced
Teacher Since: 2009
Pricing: $20/ half hour
Listing Created: 12/19/2011
Listing Updated: 12/26/2011
More About Me
Stephen Moller is a fiery young dobro player from the bluegrass-heartland of northern Illinois. After earning a BA in Music through the bluegrass program at Denison University, he took up residence in Columbus Ohio. His dobro playing has been heard to great effect in many of central Ohio's finest bands. Whether he's backing contemporary songwriters, cutting in a country band, trading eights with a trumpet in a New Orleans style brass band, or leading his bluegrass group on one of his original songs, Stephen's imagination and love of music shine brightly. As a teacher he's straightforward and knowledgeable. A practiced improviser, each lesson with Stephen offers something new and spontaneous for his students. Beginners and advanced students will benefit from his powerful technique, strong understanding of tradition, and infectious creativity.
Comments
Employers are working on different workplaces and block wall contractors phoenix give some tips to them for good performance. Employers are performing different duties regarding to different fields. Some employers are working in their homes and they must perform well for home working.
- IndianaEnderby
You must sign into your myHangout account before you can post comments.