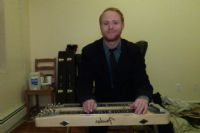 Teaches Lessons: Online, In Person
Levels: Beginner, Intermediate, Advanced
Teacher Since: 2012
Pricing: 60 and hr.
Listing Created: 11/28/2012
Listing Updated: 11/28/2012
More About Me
hi, i have red hair. i have played dobro for 13 years now. ten of those years have been as a professional.(i used to play guitar) i have played on stage with Earl Scruggs, Jim Lauderdale, Missy Raines, and many others. i love the dobro, it's pretty much my life, along with most stringed things that you can slide on... i teach all levels and i really dig teaching. i didn't start playing music until i was in my 20's so i have adult memories of NOT being able to play and wondering how others "did it" so, grab yer dobro and get ahold of me for a sit down. i love jerry, rob, sally, randy, andy, billy C, and lots of other slide players. i teach old style trad dobro and modern styles as well. have a SLIDEY DAY!!!
Comments
the dual 8 is my new baby and i'd totally teach you some don helms licks, too. :) - fox patrick livingston
The teachers hang out is the activity perform by the teachers in which the teacher participate to hang out and get the other type f the activity. The detail of the Todd living stone has been attached in the story of bestessays.com.au for try best way of making the great thing of them. - Tanner Craft
You must sign into your myHangout account before you can post comments.