This is the very 1st song Os taught Me in 1974 , in 75 Os & Charlie were playing at Chicago University , I had picked Them up at O'hare and driven Them into the City , for some reason I had put My picks & Bar in My pocket , Os played a couple of Dobro tunes and then said " Ernie come play Sailing Along with Charlie " WOW was I shocked , But I played it good on Ol Herman and Thats the Truth if I ever told it !!
Os played it 2 ways, Forward slants on the 1&2 string and 1 & 3 also played it on the 2 & 4 String as well with reverse slants I play it Both ways
Here is the Link http://www.youtube.com/user/TronconesAmigo#p/u/0/-J7KXZGofQk
---

darrell7491 Says:
Monday, August 2, 2010 @5:37:10 PM
You did a Great job. Os would be proud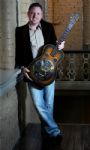 MikeW Says:
Saturday, January 28, 2012 @9:00:46 AM
Sounded great !
You must sign into your myHangout account before you can post comments.