Each year we come up with a new shirt design for Reso Hangout Players Union members. So not only does your membership support the site, turn off some ads for you, and give you access to exclusive discount codes... it also gets you a cool shirt! Here's the new shirt design for 2013.
Interested in joining the Players Union? Go here >
Please note: new members who join before 2013 starts will get a 2012 shirt. Wait until Jan 1 to join if you want to get the new 2013 shirt. If your membership expires in 2012 and you renew you will receive a 2013 shirt. (If in doubt, just look at the shopping cart--it will tell you what year's shirt you are getting).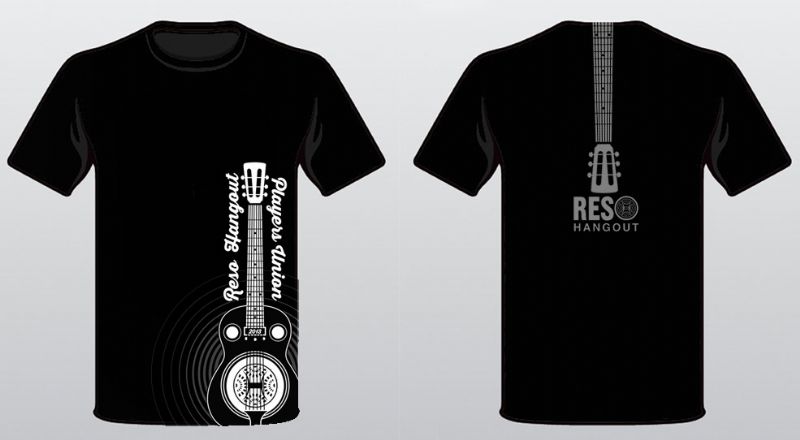 ---
10 comments on "2013 Players Union shirt design announced"

Lawrence Says:
Tuesday, December 11, 2012 @9:52:30 PM
Are you supplying different colors?

schlange Says:
Wednesday, December 12, 2012 @12:18:16 PM
You can have any color you want--as long as it's black! :-)

We can only do one color each year, because the number of Players Union members is so low here on the Reso Hangout that it would be impossible to order and stock multiple colors.

resotom Says:
Wednesday, December 12, 2012 @4:44:40 PM
Some piping around the collar and sleeves would make it look more attractive...

michaelmx Says:
Monday, December 17, 2012 @6:39:53 PM
I like the design. 8)
Is there any easy way to see how many Players Union members there are? Or who the members are? I checked the Member Search Page and didn't see any way to check it out there.
The 'Go here >' link above goes to the Fiddle Store ... might want to fix that :-)

schlange Says:
Monday, December 17, 2012 @9:12:14 PM
There isn't any easy way, no. Fixed the link, thanks for that!

Drewboy Says:
Monday, January 7, 2013 @5:17:03 AM
Any update on when the new shirts are going to ship? Thanks.

schlange Says:
Monday, January 7, 2013 @8:48:58 AM
They'll ship this week!

doug662 Says:
Monday, January 7, 2013 @11:54:09 PM
OK I WANT ONE!!! lol

Drewboy Says:
Tuesday, January 8, 2013 @7:02:16 PM
Sweet!

Michael Hughes Says:
Tuesday, January 15, 2013 @12:09:44 PM
I like it and renewed early to get it sooner :-)

You must sign into your myHangout account before you can post comments.