Posted by schlange on Friday, December 13, 2013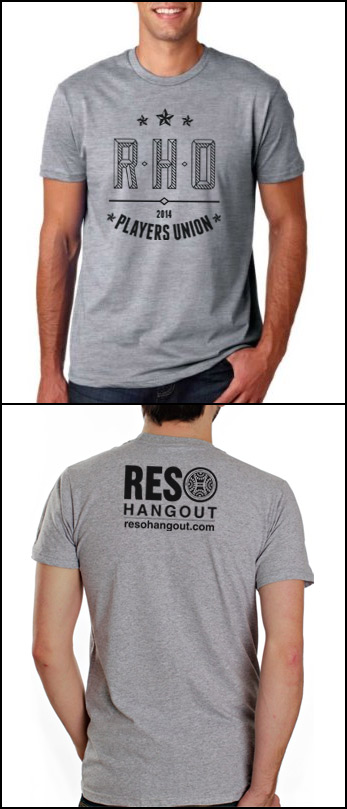 As many of you know, we have a "Reso Hangout Players Union" which members can join to help support maintenance and upgrades to the site.
Members get a members-only t-shirt, and each year we roll out a fresh design. We've done this every year since 2010, and I'm happy to announce our fourth year's shirt today!
This year's design was done by Banjo Hangout member Dave Waller of York, England. Dave does excellent design work (see his website).
These are ring-spun, 4.5 oz 100% cotton shirts--I love the softer feel and less "boxy" fit. Sizing Chart
Current Players Union members can renew their memberships now, and will be shipped a 2014 shirt as soon as we get them (towards the end of-December). Some of you have already renewed--thanks for having faith that we would come up with a good shirt design!
If you join for the first time before the year is out you'll be shipped a 2013 shirt--so wait until January 1st if you want the 2014 shirt with your signup.
(You may also join for only $20/year without getting a shirt.)
Join or Renew Your Membership >
---
Be the first to comment on "Players Union 2014 Shirt Design Announcement"
You must sign into your myHangout account before you can post comments.